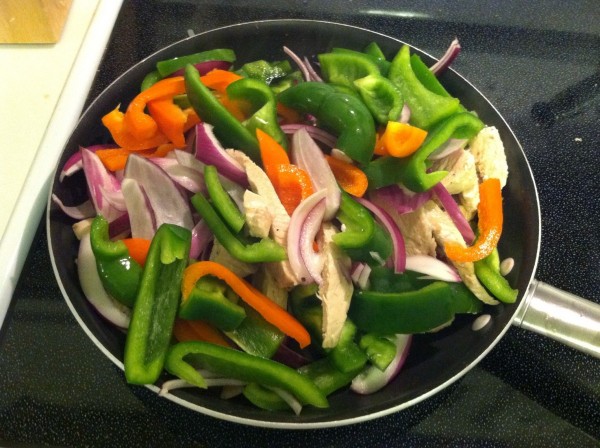 One of my favorite chain restaurants in the Philadelphia area was Houlihans, and by far my favorite meal was their Sizzling Fajitas.  They were served literally sizzling on a cast iron pan and brought directly to your table.
This recipe is my take of their sizzling fajitas, it's been awhile since I had them and I created this as close from my memory as possible.  They're delicious, enjoy!
INGREDIENTS
3 Pieces of Boneless Skinless Chicken Breast cut into 1 inch slices
2 Green Peppers (you can substitute one for orange or yellow)
1 Large Red Onion
1 Tbsp Olive Oil
Dash of Salt & Pepper
MARINADE
1/4 Cup Soy Sauce
2 Limes (squeezed)
1 Tbsp Chili Powder
1 Tbsp White Sugar
1 Tsp Garlic Powder
1 Pack Large Flour Tortillas
8 oz pack of shredded sharp cheddar cheese
1 Small Sour Cream
1 Romaine Lettuce, washed and cut into bite size pieces
PREPARE
Heat large skillet to medium heat, allow to warm.
Place Chicken and Olive Oil in pan, sprinkle a dash of salt and pepper over chicken to season.
While chicken cooks, cut up 2 Green Peppers or substitute one for orange or yellow if you'd like.
Cut up 1 large red onion, slice in half then cut into 1/2 inch slices.
When chicken is done cooking drain any excess water and return to stove.  Add peppers and onions, at this point your skillet may be almost overflowing but it's ok it will cook down.
Add marinade – soy sauce, lime (squeeze lime over chicken & peppers), chili powder, sugar and garlic.
Continue to cook at a medium heat about 15 minutes or until peppers are tender.
Raise heat to high for 5 minutes allowing the marinade and onions to carmelize. When onions start to brown remove. Marinade will evaporate and will form a thick dark sauce – this is the best part!  It might be almost burnt, or semi-burnt, but that's ok!
Serve on flour tortillas (warm on a paper towel in microwave for 20-30 seconds) with lettuce, shredded cheddar cheese and sour cream.  Mmmmm!
Tip: The lime REALLY makes this dish so make sure you use a fresh lime and not lime juice.