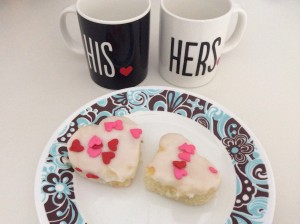 I love family, and I love all of the traditions that come along with it as well.  Whether it's a vacation every year to the beach, a special Chrismas gift exchange, or a special treat, I hold onto those prized traditions and look forward to them every year.
Each holiday has it's own set of traditions and Valentine's Day is no different.  My mom would always make Valentine's Day Petit Fours, her version was simple, sugary and a desired yearly treat.
This year I decided to make them for the first time, and as with all parenting goals, I did my best.  The icing was not nearly thin enough(I think I should have cooked it longer), so instead of covering the cake completely it ended up being just on the top and a little on the sides.
My kids could care less, I made them last night and they've been hovering over them every since, I kind of like the anticipation build up as most meals/desserts are devoured mere seconds after I finish them.
Here's the recipe, I hope you have better luck then I did, regardless they're delicious!
YOU WILL NEED
1  – Box white cake mix (and ingredients for mix – eggs, oil, water)
1 – 11 x 15 " Jelly Roll Pan
Sprinkles
Food Coloring(optional)
Heart Shaped Cookie Cutters (optional)
FOR ICING
2 lb bag powdered confectioners sugar
1/2 cup water
1/2 cup light corn syrup
1 tsp vanilla extract
1 tsp almond extract
Cook cake as directed on box, placing in either a large jelly roll pan or split amongst other size pans (8 x 8 and a 9 x 13) – you want the cakes to be not as tall as normal cake, so any regular size cake will do, but ideally you'd use a large enough pan to make them shorter, or split the mix amongst multiple pans to spread them out.
After cake is cooked allow to cool completely.  Cut cake into heart shapes with cookie cutters, or just cut into squares if you don't have cookie cutters.  Place on cooling racks with wax paper underneath.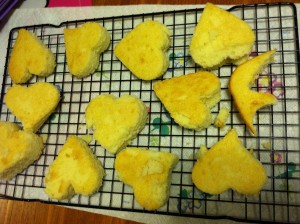 Make icing by mixing all ingredients in a double boiler(if you don't have on you can just fill a large pot 1/2 with water and place the smaller pot in it – just make sure the smaller pot won't tip).  If you want to add a tinge of food coloring, for example a little red to make the icing pink, you can.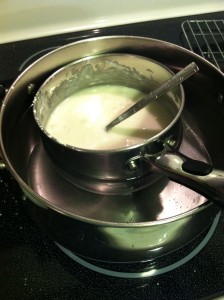 Mix icing over low-medium heat until runny, stirring often.  Poor over cakes on cooling racks, being sure to cover the sides of each cake.  Decorate with sprinkles immediately, it might be easiest to ice & decorate 1/2 and then do the second 1/2.
These mini Valentine's cakes are easy and delicious.  They're super sweet!