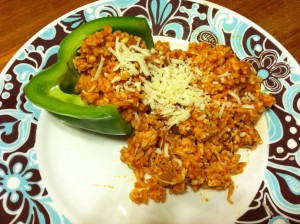 Finding meals that everyone in the family loves is pretty difficult, so any meal that can be modified for specific family members makes my life a whole lot easier.  These Turkey Stuffed Peppers you can set aside just rice, or rice with sauce, or just the "filling" if people aren't too fond of the green peppers.  We usually make 2 peppers and split them amongst myself, Eric and our oldest son and there is plenty to go around.
YIELD
This makes about 8 half pepper servings, tweak as necessary!
INGREDIENTS
4 Green Peppers
1 lb Ground Turkey
1 Cup of Water
1 Jar of Spaghetti Sauce (24 ounce)
2 Cups White Rice
1/2 Small Onion
1 tsp Garlic Powder
Dash of salt
1 – 8oz Pack of Shredded Mozzarella Cheese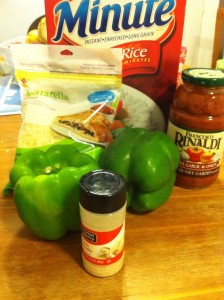 INSTRUCTIONS
Clean and cut peppers in half, place in cold water and cook on high.
Chop onion and cook with ground turkey and water in large skillet until the turkey is cooked through.
Drain any excess water, add spaghetti sauce, garlic, rice, garlic powder and dash of salt, heat over medium heat until warmed through.
Remove from heat, stir in Mozzarella Cheese.  Serve by placing half a green pepper on a plate, fill it with the mixture and sprinkle with cheese.  Bon Appetit!