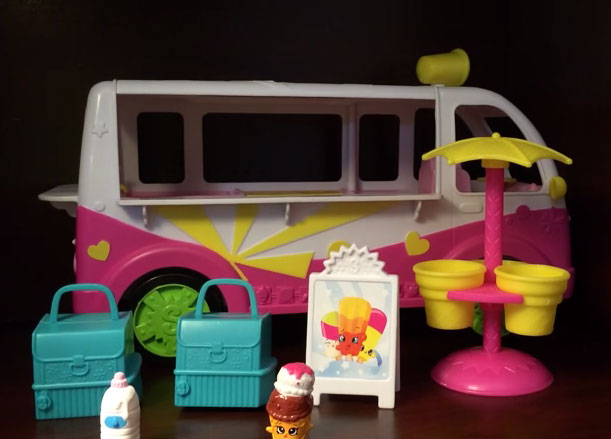 We were recently on vacation and went to Toys R Us to allow each of our kids to pick out a toy to play with while we were away (it keeps them busy during downtime, so it's a win-win!). Our 4 year old daughter saw Shopkins as soon as she walked in and immediately wanted them. Not understanding what they were I tried to convince her to walk around the store to look at other toys, but she wasn't having it, she grabbed 2 packages and that was what she wanted.
A few days later as she played with them, I realized they were something she's seen before on YouTube Kids so she was familiar with them. They're collectible rubber figurines that have been around for a bit as they released Season 3 recently. Our son saw them and even he thought they were pretty cool and wanted to do his first YouTube video which we have posted below. The Shopkins Series 3 Scoops Ice Cream Truck Playset
we went back and purchased on our way home, once we realized that Shopkins are bought like hotcakes once they come into the store, we figured we'd buy it while we could. I'm putting an affiliate link here so you can view this product and others on Amazon but please be careful to read reviews of the seller you will be purchasing from to make sure you're not getting counterfeit items. The Minecraft Deluxe Ender Dragon Plush
is another item on Amazon that has a lot of counterfeit complaints so just be smart, if a price seems too good to be true, it probably is!