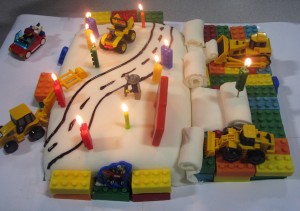 Our oldest son Aiden turned 10 last fall and he asked to have a lego cake.  I had seen a variety of really cool, professional looking cakes on Pinterest, but I'll be the first to admit that I'm not exactly the most skilled cake decorator.  So we talked to a local baker but the cake would cost quite a bit, and the previous year we had gone all out on a "Cake Boss" style cake that we spent a lot on…and it ended up looking terrible (no refunds!).
Part of the fun honestly is making the cake and decorating it yourself and my son wanted to be able to decorate the cake as well.  We decided to create our own Lego cake never having made a cake this extreme before.
We made a regular sheet cake, and then covered it in a basic buttercreme frosting.  I purchased fondant from a local craft store and rolled it out over the cake and then cut and rolled extra pieces where the trucks would be "working" on the cake.
I purchased this Large Lego Brick Ice Cube Tray / Candy Mold
(2 of them to make them quicker), which at first I was disappointed that it wasn't true to "Lego" size, but after making about 50 of them I was grateful it was larger!  Also, there is no bottom rivets, so when you place a block ontop of another block, they don't actually attach, but I found they looked really cool stacked on top of each other anyway.  For the bricks, I bought a bag of each color chocolate melting wafers that my son wanted, and melted them in the microwave and poured them into the molds, doing 1 color at a time until the chocolate for that color was gone.  The secret to the mold is to make sure the chocolate goes all the way into the bottom circles.  You can do this by grasping either side of the mold once filled and gently tapping the bottom against a tabletop.   You'll notice air bubbles rise, this is good!  Once all air bubbles are gone, stick in the freezer to harden.  Make sure it's completely cooled before popping them out.  If you don't remove the air bubbles the little circles will be a mess!
We purchased a toy "construction vehicle" pack, and a few inexpensive Lego packs (the kind you see at checkout sometimes), as my son didn't want to ruin his.  We then used coloring gel to draw the road, added all of the vehicles, and on the top added Lego Style Candles
to finish it off.
I thought it turned out pretty good, we got quite a few compliments on it, and a few parents wanted to know how to make their own for their kids, that must be a good sign!
Disclosure: This post contains an affiliate link(s). Thank you for supporting Our Nutshell at no cost to you

Here are some additional pictures of the cake: