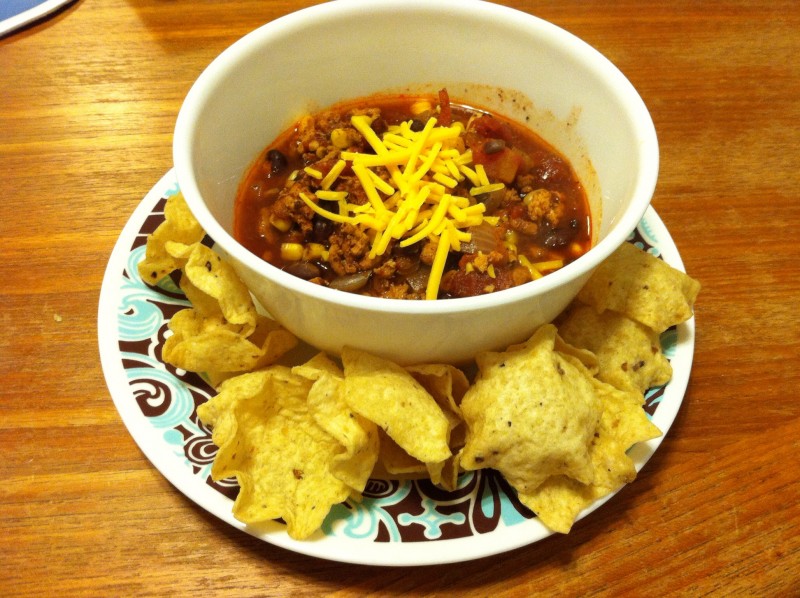 I love crockpot cooking, and although I'm a fan of being able to throw everything in all together, this recipe is much tastier when you precook the onion and garlic.  You can opt to also throw it directly into the crockpot if you'd like.
INGREDIENTS
1 Tbsp Minced Garlic
1 White Onion chopped
1 Tbsp olive oil
1 lb Ground Turkey 99%
1 Cup of Water
2 – 14.5 oz can tomatoes
1 – 12 oz package steam fresh corn
1 can chicken broth
1 can black beans
1 tbsp sugar
1 tsp pepper
1 tsp oregano
1 tsp ground cumin
2 tbsp chili powder
2 tsp basil
Dash salt
OPTIONAL
1 Package Tortilla Chips
1 – 8 oz Package Sharp Cheddar Cheese
Cook steamfresh corn in microwave, when it's done cooking let it sit in the microwave for 1 minute then add it into the crockpot.
While the corn cooks, in a large skillet combine the garlic, onion, olive oil and cook until the onions are translucent,  place in crockpage.   Place the turkey in the pan on medium heat with 1 cup of water(this will keep it moist) until cooked through.
While the turkey cooks you can add the rest of the ingredients – chicken broth, tomatoes, black beans, sugar, pepper, oregano, cumin, chili powder, basil and salt.
Cook on high 4 hours or low 8 hours.  Serve with tortilla chips (I love Tostitos Scoops) and sprinkle with Cheddar Cheese.