As a busy mom I often struggle to come up with meals that are quick and healthy – let alone something that my kids would enjoy as well.  I am a big fan of the crockpot and meals with a few ingredients.  There are plenty of food bloggers and chefs that I greatly admire for their perfect photos and delicious complex meals that they can create with ease.  Honestly, I'm just happy when I can get a meal on the table, so this recipe is just that – a quick, simple easy meal idea for those nights when you're waaaaaaaay too tired to even think.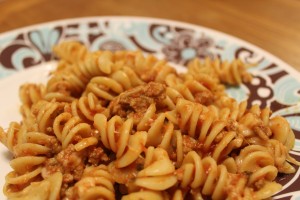 INGREDIENTS
1 Jar of Spaghetti Sauce
1 Box of Spaghetti (rozini, rotelle any short fat pasta will do)
1 lb Ground Turkey
2 Cups Mozzarella Cheese
DIRECTIONS
Bring one large pot of water to a boil, once boiling add spaghetti for length of time instructed on package.  While waiting for water to boil, heat spaghetti sauce in a separate medium saucepan until heated through.  In a large frying pan place ground turkey and 1/2 cup of water, cook through until no longer pink.
Drain spaghetti, return to pan, add sauce, cooked ground turkey and mozzarella cheese.
That's pretty easy right? Enjoy!