Birthdays are a big deal in our family and we really try to go all out to make the day special from the time our kids wake up until they go to sleep.  Their birthday parties are no exception and we love to do whatever we can, both big and small, to make them memorable.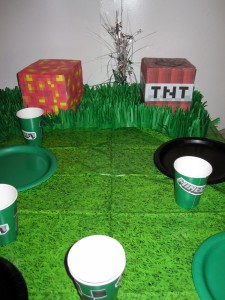 This past year Cody wanted to have a Minecraft Party.  Minecraft is a video game that is "very popular with the kids nowadays"…and our sons 5 & 10 both love to play it.  The problem is, Minecraft products are very hard to find, this past year Fall-Winter 2013, more products became available, but Cody's birthday was last fall which made it next to impossible to find anything Minecraft themed to use.  So we decided to create our own Minecraft party from what we could put together.
Cody wanted his birthday party at a local bounce place, so it meant everything needed to be portable, and we'd have to work with what we were given location wise.  So we purchased Grass Tablecloths
and Packaged Tissue Grass Mats Decorations
from Amazon which we used as the basis for the tables.  We also purchased green & black plates and green cups which I then decorated by printing Minecraft lettering and gluing it on.
Finally we created these Minecraft Boxes using 6 Inch Shipping Boxes
and printed out Minecraft sheets to cover them, applied them with Mod Podge using 1 Inch foam brushes.
He loved the party and everything went really well, we were able to carry everything in pretty easily, setup was a breeze, and we managed to have a local baker make a special Creeper Cake for a really good price.
As a side note, we also purchased him these cool Minecraft Sheet Magnets
which allow him to play "Minecraft" with real magnetics on the fridge, so he doesn't always have to be in the actual video game all the time.
PRODUCTS USED TO BUILD THIS:  Mod Podge
, 1-Inch Foam Brushes
(to apply Mod Podge), 6 Inch Shipping Boxes
Disclosure: This post contains an affiliate link(s). Thank you for supporting Our Nutshell at no cost to you 🙂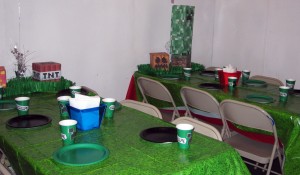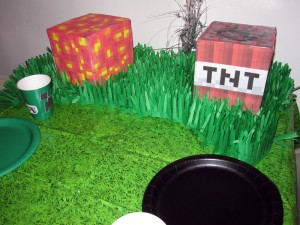 Minecraft Party