Looking for an easy fun "Snow Day" thing to do?  We started this tradition many years ago when our now 10 year old was about 3 or 4.  It's easy, simple, but they love it.
It's Snow With Sprinkles! And it's as easy as it sounds.
What You Need:
1) Fresh Snow.  This should be as fresh as possible.  I usually wait till a day when we get a few inches of snow and scoop a few inches up from the bottom.  Do not use old snow as it can accumulate dirt & other unwanted substances.
2) Sprinkles.  These can be any kind of sprinkles you have on hand!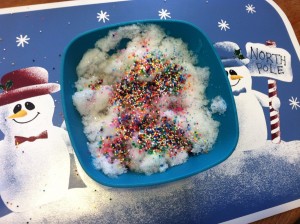 How To Make:
Simply scoop snow into a bowl, put on as many or as little sprinkles as desired, serve with a spoon and enjoy!
The kids love it and it's a quick and easy treat!