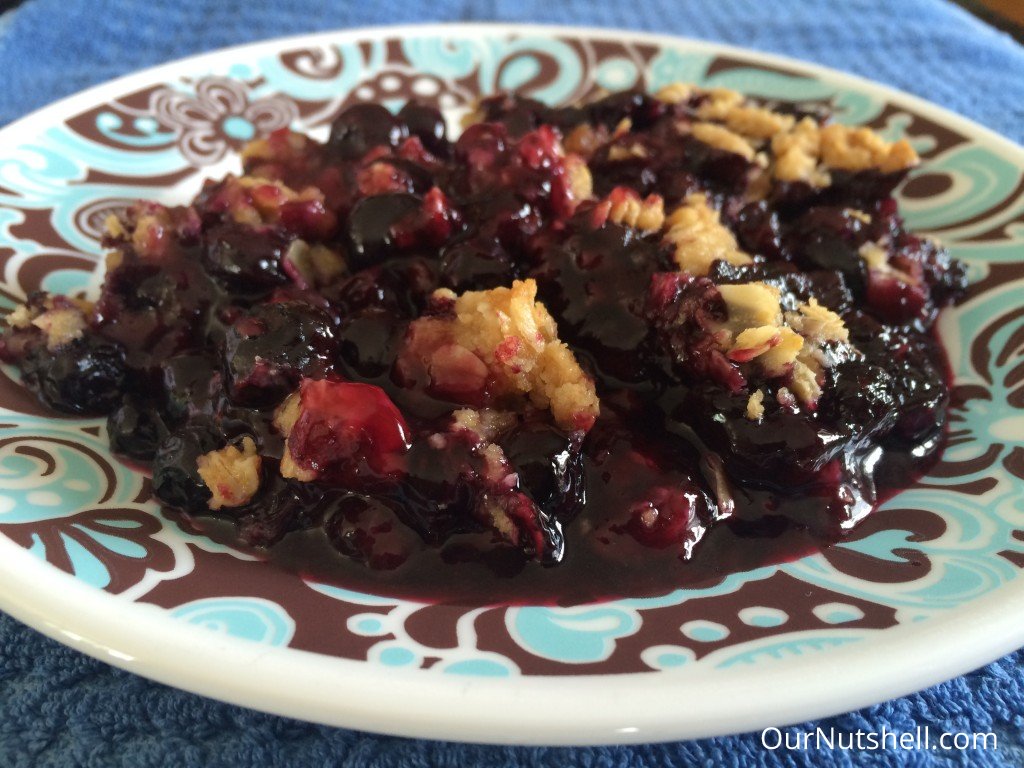 My kids love fresh fruits and vegetables, and although I love baking I rarely find much time to do it, so when I can bake, there's nothing better then combining those 2 together.  I get to bake and make something that I know all the kiddos will enjoy and look forward to eating.  They also all love to help out, it definitely takes a bit longer and makes quite the mess, but they really enjoy it and I love being able to show them how their food is made.  This recipe I found online awhile ago and tweak a little, I love a good crisp and this recipe is great for that.  It's a pretty sweet dish and although I make it a lot during the colder months when blueberries aren't nearly as sweet, it can be made anytime just adjust it accordingly for sweetness(if the blueberries are super sweet be sure to cut down on the sugar in the base portion.
INGREDIENTS 
2 Pints of fresh blueberries (about 4 cups)
1/2 Cup Sugar
2 tbs Cornstarch
1 Cup Water
1 Freshly Squeezed Lemon
1⁄2 teaspoon Vanilla Extract
TOPPING
1 Cup All-Purpose Flour
3⁄4 Cup Old Fashioned Oats (regular)
1 Cup Brown Sugar
2 Tsps Cinnamon
1⁄2 Cup Butter
Preheat the oven to 350 degrees.  Rinse the blueberries and pour them into a 9 x 9 inch pan.  Pour sugar, cornstarch, water, lemon juice into a small saucepan, stirring frequently and heat until it becomes think and clear.  Remove from heat, stir in vanilla extract then pour over the blueberries and gently stir.
Combine the flour, oats, brown sugar and cinnamon in a small bowl and stir until evenly mixed.  Melt the butter and add it to the mixture until it's consistent.
Pour crisp over top of the blueberry mixture, I usually take a fork and try to disperse it as best as possible into the middle and then spread it towards the edges.
Bake for 35 minutes, adjust time if necessary, it should be bubbly and the topping browned.
Our family loves to serve this with a bit of vanilla ice cream.  It's definitely sugar-y enough on it's own, but we like the flavor combination.
Enjoy!